Budva Paragliding Montenegro - Flying adventure!
Welcome to Budva Paragliding!
We are glad to welcome you and invite you to participate in a tandem paragliding demonstration to perform an incredible flying adventure.














Fulfill your dreams of the best active holiday in Montenegro and enrich your journey with unique sensations and unforgettable impressions!
The paraglider is ultralight aircraft that can embodiment your dreams and will bring new incredibly powerful emotions that you have never had before.
Tandem flights with masters of Budva Paragliding Montenegro are comfortable and absolutely safe, you will get a lot of unique sensations and joyful impressions!
It`s easy
Everyone can fly and try paragliding with us!
As a passenger, you do not need any prior knowledge or experience of flying, whether young or in years (the oldest passenger is 93), light or heavy (25-120 kg). Minimally you will need - strong shoes such as sneakers and a jacket depending on the season, as well as sunglasses.












We start from the top of the mountain above the beach. We run up to ten meters and the glider comes off gently from the ground and … we fly!
Nothing could be easier. You as a passenger have to do nothing! Just lift your legs and we land softly on the ground.
Our pilots
The pilots of Budva Paragliding Montenegro are real masters of their craft, they have a common passion and sincere desire to share their experience and all the beauty of free flight with you. Due to competence, experience, and sense of responsibility, we guarantee maximum safety. We have been flying since 1993 and are the pioneers of Paragliding Montenegro. Our pilots have more than 25 years experience of in flights in tandem with countless passenger flights and flight hours.
Flying adventure as a Gift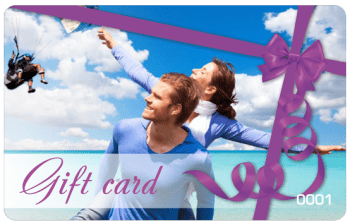 A colorful gift card is a great gift for all occasions!
The card is for the presenter, with no time limit for use. The card can be activated by the lucky owner at any convenient moment.












Get more outdoor experience in Montenegro