Budva Paragliding: Embrace the Sky Adventure
Welcome to the Exhilarating Skies with Budva Paragliding Montenegro!
Step into a world where the sky is not the limit but the beginning of an awe-inspiring adventure. At Budva Paragliding, we warmly invite you to spread your wings with a tandem flight that will leave your heart soaring long after you've touched back down to earth.
Embark on the ultimate active holiday in Montenegro, a journey where each glide is a brushstroke on the canvas of your dreams. Immerse yourself in the rush of unparalleled sensations and craft memories that will sparkle in your mind like stars in the night sky.
Our paragliders, ethereal in their simplicity, are not just ultralight aircraft; they are vessels of freedom, ready to lift you into realms of incredible, powerful emotions. With Budva Paragliding Montenegro, each flight is a symphony of joy, a peaceful encounter with the skies, wrapped in the comforting knowledge of absolute safety.
It`s easy
The sky calls to everyone, and we answer with open arms!
Whether you're taking your first leap or you've tasted the clouds before, you need no prior experience to join us. Embrace the sky's embrace, regardless of age or walk of life—our oldest guest has danced with the wind at 93! All you need is a pair of sturdy shoes, a jacket to hug you against the breeze, and perhaps sunglasses to shield your eyes as you gaze upon the majestic Montenegrin landscape.
We start from the top of the mountain above the beach. We run up to ten meters and the glider comes off gently from the ground and … we fly!
Nothing could be easier. You as a passenger have to do nothing! Just lift your legs and we land softly on the ground.
Our pilots
Meet our Pilots, the Sky Whisperers of Budva Paragliding Montenegro
Our pilots are more than skilled artisans of the air; they are custodians of dreams, united by a burning passion and a heartfelt wish to share the splendor of flight with you. With a tapestry of experience woven over decades, a deep commitment to safety, and a pioneering spirit that has charted the Montenegrin skies since 1993, they ensure your journey is as enchanting as it is secure.
The Flying Adventure as a Gift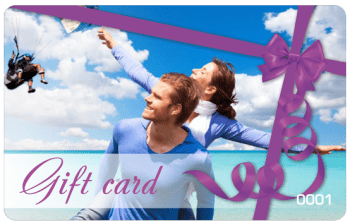 Gift the Sky with our Flying Adventure Gift Cards
Enchant someone's life with the promise of flight—a gift card from Budva Paragliding Montenegro is a ticket to wonder, suitable for any occasion and timeless in its thrill. Let the recipient choose their moment to answer the call of the sky, to unfurl their wings and claim the horizon.
Join us, where dreams take flight and the adventure of a lifetime awaits with every gentle gust. Welcome to Budva Paragliding Montenegro—where you don't just fly, you become one with the sky.
Get more outdoor experience in Montenegro