Welcome to the heart of Montenegro's coast - Budva! Known for its mesmerizing beaches, captivating old town, and dramatic backdrop of mountains, Budva is a treasure trove of experiences. But, hold onto your hats, because we're about to elevate your visit to an adrenaline-charged new level with tandem paragliding!

High-Flying Adventure Awaits!
We're thrilled to offer you Montenegro's top outdoor activity – a unique tandem paragliding demonstration that charts a course from Brajichi to Sveti Stefan and Bechichi. Imagine launching into a world where the sky is your stage, the mountains your backdrop, and the sparkling Adriatic your audience.

A Flight Beyond Ordinary
Your journey begins with a comprehensive safety briefing by our seasoned pilots, ensuring you're fully prepped for the thrilling ride ahead. Strapped securely into your paraglider, you'll take off, embracing the exhilarating rush of the wind and the liberating feeling of soaring bird-like over the Budva Riviera.

A Route Drenched in Beauty
As you glide over Brajichi, Sveti Stefan, and Bechichi, the Budva Riviera unfolds beneath you like a vivid tapestry. The contrast of rugged mountains and the azure sea, punctuated by charming villages, is nothing short of spellbinding.

Capture the Moment
This 20-30 minute flight, weather permitting, is your canvas to capture panoramic views and create memories that will echo through a lifetime. Your camera will thank you for the endless photogenic moments!

For Everyone with a Heart for Adventure
No matter, if you're a seasoned sky explorer or a first-timer spreading your wings, tandem paragliding in Budva, is an all-encompassing experience that melds adventure, adrenaline, and the awe of nature.

Ready for Takeoff?
Why just walk through the Budva Riviera when you can fly? Seize the opportunity to view this majestic landscape from a perspective reserved for the birds.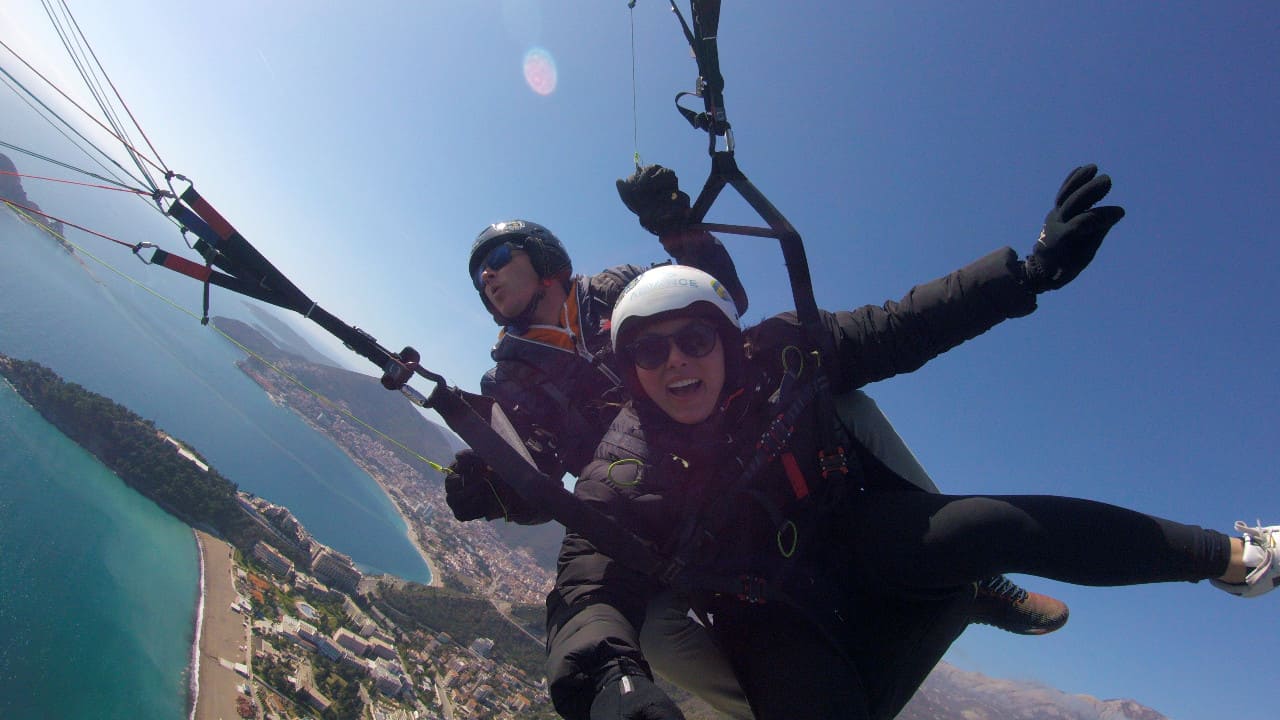 Book your tandem paragliding flight now and gear up for a 'big air adventure' that promises to be a highlight of your Montenegrin escapade!
---
On this delightful flight, we take off to a height of up to 1200 m. above sea level from where a stunning view opens up to the entire Budva Riviera. And we will fly like birds a distance of about 25 km. The duration of the aerial excursion is up to 25 min. Landing on the beach of Budva Riviera.
The whole standard event lasts 60-90 minutes.
The price
The donation price: call

Transfer from meeting point included.
High-resolution video and photo, download link included!