If you are planning a trip to Montenegro, you probably will be interested in rafting - an extreme sport that is suitable for people of different ages.
Everyone can become participants: children and adults in the range of 7-70 years.
The ideal time for rafting is summer when the water level is low so that the rapids are not dangerous. The rafting is organized along the river Tara. On the way, there are sights and just beautiful natural places, fascinating for their beauty. Lake Piva is the place where the bus stop usually passes. There, the group can relax, eat, socialize and prepare emotionally.
Rafting tours often last one light day - 12-13 hours. The minimum price is 45 euros for an adult and 35 euros for a child. The price includes a full breakfast and lunch, which the organizer takes care of. You can take some water, cookies, and, in general, something that will not disappear, but you can chew during the break.
A two-day tour will cost an average of 150 euros for an adult and up to 100 euros for a child. The cost is increased due to the need to provide accommodation and comprehensive meals. Travelers spend the night in tents and use sleeping bags and other equipment. It is recommended to take the accessories with you:
T-shirt and socks (you can easily change clothes);
swimsuit and towel;
means of motion sickness;
water;
gadgets and accessories;
gloves (organizers do not always warn that the beginners are rubbing the hands of people who are not used to rafting).
As standard, participants are given a helmet, vest, and shoes. This is a must-have inventory. They are brought to the river by buses, jeeps, or other transport.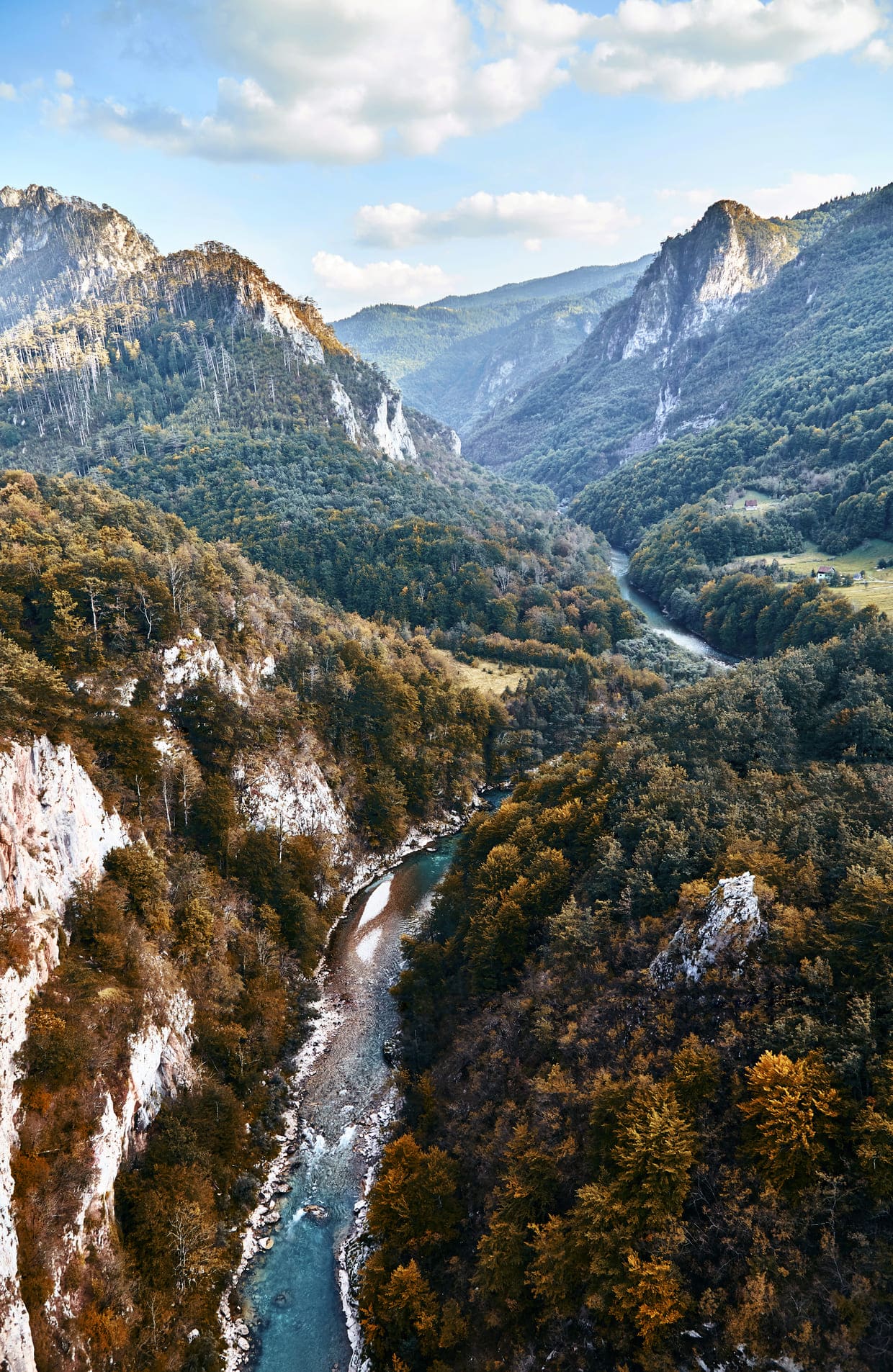 Usually, the trip starts in the city of Budva between 06:00 and 07:00 in the morning. One of the successful routes is through the cities of Cetinje and Podgorica. If you choose this path, then you will be able to look at Lake Skadar - the beautiful natural value of Montenegro. As part of this tour, it is possible not only to go rafting but also to see almost all of Montenegro while the bus ride lasts.
Tara consists of rapids and waterfalls. In total, a standard one-day tour implies passage through 24 medium-thresholds, which will bring a lot of adrenaline. Around are the mountains and vegetation, lunch in nature and just beauty.
The tour, which will last one day and will involve a return to Budva, will cost an average of 60-70 euros for an adult. A two-day similar tour costs about 100-200 euros - much also depends on where you plan to organize an overnight stay. It is possible in a tent, and it is possible in a hotel where buses will take tourists.
Other departure options are available for rafting trips along the route presented:
Tivat;
Kotor;
Radovici;
Jaz Beach;
Becici;
Petrovac.
Return to the place of departure is around 19:00. The total duration of the trip will be about three hours for a one-day tour. If the trip is designed for two days, the alloys last longer and are divided into equal parts with a long rest.
The optimal variant of the route that is suitable for beginners is Cetinje-Podgorica-Niksic-Pluzine-Scepan Polje. The tour costs 85 euros for an adult. It is quite long.
Another interesting option, which will also cost 85 euros, is designed for the route to the village Brštanovica - village Ščepan Pole. Along the way, you can see old buildings, cascades, and much more.
The next route starts from Slavica - here is especially fascinating nature, and along the way you manage to pass near the waterfall Lyutitsa - one of the most beautiful in Montenegro. It is from Slavica that the two-day rafting tours start more often.
Some tour operators offer canoeing to people of different age groups. For example, simple ways, where the thresholds are not expressed, are aimed at families with children from 7, and sometimes from 5 years.
Book your activity in Montenegro in advance!